Since 1980, EnergyGuide labels displayed on appliances have been helping savvy consumers make energy efficient choices. The distinctive yellow and black labels help shoppers compare the energy use of different appliance models. The more energy efficient an appliance is, the less it costs to operate, translating into lower home utility bills. Using less energy is also good for the environment, reducing air pollution and helping to conserve natural resources.
The labels don't appear on all appliances, but the Federal Trade Commission requires their placement on any new product in the following energy-using product lines:
Refrigerators
Refrigerator-freezers and freezers
Dishwashers
Clothes washers
Central air conditioners
Room air conditioners
Water heaters (some types)
Heat pumps
Furnaces and boilers
Lighting products
Fluorescent lamp ballasts
Plumbing products (some types)
Televisions (manufactured after May 10, 2011)
Although clothes-dryers, ranges and ovens, microwave ovens, humidifiers, dehumidifiers, and space heaters have to meet federal minimum efficiency standards, they have been exempted from the EnergyGuide program. That's because the amount of energy the products use does not vary substantially from model to model.
How to read EnergyGuide labels
This sample label explains how to use the label as you shop.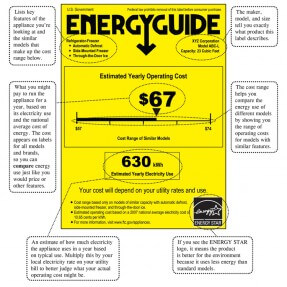 The label includes:
The make, model, and size – so you know exactly what product this label describes.
A list of key features – both of the appliances you're looking at and the similar models that make up the cost range below.
The operating cost range of competitors – this helps you compare the energy use of similar models by showing you the range of operating costs for models with similar features.
Considerations when using the Energyguide label
The yearly operating cost is estimated by using a national average cost of electricity. Your utility may charge more or less than the average price, so remember that the EnergyGuide estimated cost is just that – an estimate.
Information on EnergyGuide labels varies from appliance to appliance. The estimated cost maybe based on the average price of natural gas instead of electricity, for example. For room air conditioners, central air conditioners, heat pumps, furnaces and boilers, the range is not energy consumption, but rather, the energy efficiency ratings for these products (EER, SEER, HSPF & SEER, and AFUE, respectively).